TAKE CARE!

How? We'll show you here.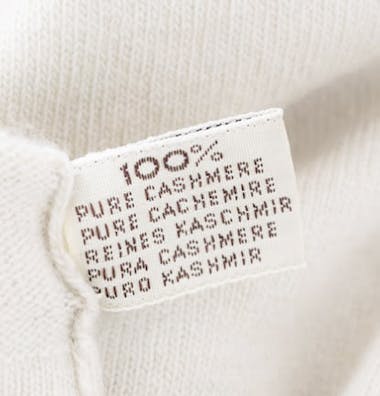 HERZEN'S CARE
Every garment has its own special features and needs individual care. We tell you how to care for your HERZEN'S PIECES to enjoy them for a long time.


CASHMERE
Our cashmere garments are valuable, luxurious, durable and a perfect investment.


The natural yarn not only warms optimally in winter, but also has excellent climate properties in summer. The fine undercoat of the cashmere goat allows the garment to breathe and always ensures a pleasant skin climate.
CARE
Daily washing is not necessary with cashmere and prolonged airing is often sufficient. Give your cashmere pieces a rest of at least 24 hours until the next time you wear them.


Cashmere does not need to be dry-cleaned, but should be washed in a wash bag in the washing machine on the wool cycle. Use cashmere shampoo sparingly.


After washing, you should dry cashmere lying down or in a dryer with cold air.


Pilling or small knots are typical of cashmere and are not a sign of a quality defect. Never simply tear off these nodules, but remove them carefully with a cashmere comb or pilling razor.
SILK
HERZEN'S ANGELEGENHEIT Silk pieces captivate with a glamorous sheen, a feeling of weightlessness and a pleasant temperature balance on the skin. With the right care, a HERZEN'S classic silk piece can accompany you for a lifetime.
CARE
We recommend washing silk by hand or in the washing machine on the silk wash cycle.


Use a special silk shampoo here as well to enjoy your silk piece for a long time.


To prevent the freshly washed fibres from warping, simply let the silk piece dry lying down, wrapped in a towel.


Wet silk must never be rubbed, wrung or spun.
MERINO
We love merino! Why? Quite simply, the fine structure of this noble material makes it lighter than other types of wool, yet it still keeps you warm.


Our merino fibres not only insulate well against the cold, but also provide a pleasant cooling effect on the skin in warm temperatures. At the same time, the material is very durable and therefore a real all-rounder for us.
CARE
The power material Merino contains antibacterial and odour-inhibiting properties and does not need to be washed after every wear. Again, a simple airing out after wearing is recommended.


Wash our Merino pieces at 30°C in the washing machine, making sure to use a low spin cycle.


Only use a wool detergent so that the fine structure and special breathability of merino can be preserved.


Lightly shape and hang merino garments after washing. Heat from the dryer is also taboo for merino.